FAQ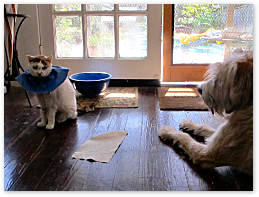 Cost of housecalls
The primary difference in cost between taking your pet to a veterinary hospital and having a vet come to you is in the housecall fee. The housecall fee is a travel fee for the veterinarian to come to see your pet in the comfort of your own home. Otherwise, the costs associated with the visit are quite similar to traditional brick and mortar veterinary hospitals.

The housecall fee starts at $55 for distances within 15 minutes travel from Dr. May Parsons's home in South Central Austin and increases for more distant locations or when the services of an assistant are required for safe and efficient handling of patients. The examination and consultation ranges from $65-95+, depending on the circumstances and time involved.

End of Life Care
Housecall, consultation, sedation and euthanasia is $300 within Dr. May's routine service area during regular business hours. She is sometimes able to travel to more distant locations and provide evening or weekend end of life visits as her schedule permits.
Dr. May Parsons can also coordinate communal or private cremation services for pets weighing less than 85 pounds. The cost of cremation is based on your pet's weight and the options you choose. Communal cremation is $95-$150 and private cremation with your pet's ashes returned in one of several standard urns or a cedar box is $225-325.

Payment is expected at the time services are rendered. Cash, check, and major credit cards accepted.